ITOCHU Values

The ITOCHU Values – Visionary, Integrity, Diversity, Passion, and Challenge – have not changed since we were founded over 150 years ago. These fundamental Values are linked each other and are integral to us in fulfilling our Mission.

The ITOCHU group Corporate Code of Conduct applies to each one of us.
It is based on the corporate philosophy and consists of 5 self-tests.
Visionary

To possess a clear picture or idea of a desired future and communicate that vision, leading others to its achievement.
Am I communicating vision and moving forward with others?
Integrity

To act in alignment with personal and professional standards and values, keep agreements, and interact consistently at all times with everyone, everywhere.
Am I proud to say I am involved in this work?
Diversity

To accept and respect different genders, ages, nationalities, and experiences and to leverage this diversity to enhance results.
Am I including the ideas and skills of a variety of people to create the best result?
Passion

To focus intensely and energetically on current issues, with strong will and momentum to succeed.
Am I taking responsibility for and caring intensely about what I am doing?
Challenge

To be fully committed to undertake new projects and pioneer the future with creativity and ingenuity, no matter the degree of difficulty.
Am I actively trying new things and pursuing innovative solutions?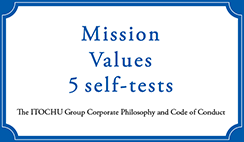 The ITOCHU group is a dynamic entity; it is continuously evolving through the actions of its employees.This booklet was created to clarify the ITOCHU group's corporate philosophy and code of conduct and to ensure that we adhere to them on a daily basis.