Corporate Message

This corporate message expresses the meaning of our corporate philosophy, "Committed to the Global Good." We offer this message as a way to convey the role of ITOCHU to the greater society.
This message represents the ITOCHU Spirit. The values we hold common with society and our employees that allow us to respond to the needs of a changing society, continuously provide the life enrichment made possible through our business operations, and to always aim higher.
Our strength derives from the outstanding abilities of individuals.
ITOCHU is a gathering of rich personalities and a free-spirited organization that strongly emphasizes the strength of individual capabilities.
How do we maintain our presence as a welcomed member of society? By individual employees working to deliver the products and services demanded by the market, by continuing to make wide-ranging social contributions, and by providing the life enrichment that is made possible through our business activities. These principles are aligned with the management philosophy embraced by ITOCHU founder Chubei Itoh and the Ohmi merchants of sampo yoshi ("Good for the seller, Good for the buyer, and Good for society"). These principles outline the path to sustainable growth for ITOCHU and we consider the implementation of this philosophy to be our corporate mission.
As one of Japan's preeminent merchant companies, we will remain grounded in our merchant's spirit while aiming for business operations that are good for the seller, good for the buyer, and good for society. In doing so, we will complete the countless missions that represent our responsibility to society.
Statement
Mistake me not for just any ordinary person. I am one with countless missions.
My workplace is the entire world. I engage in business across borders, touching people's lives and creating new lifestyles.
Through my business, I bring about a brighter tomorrow for all around me.
I dedicate myself to our common future, mindful of my responsibility to promote the prosperity of all earthly beings.
In the end, I believe this leads to my own betterment.
I am ITOCHU, with infinite missions around the world.
ITOCHU Values

The ITOCHU Values – Visionary, Integrity, Diversity, Passion, and Challenge – have not changed since we were founded over 150 years ago. These fundamental Values are linked each other and are integral to us in fulfilling our Mission.

The ITOCHU group Corporate Code of Conduct applies to each one of us.
It is based on the corporate philosophy and consists of 5 self-tests.
Visionary

To possess a clear picture or idea of a desired future and communicate that vision, leading others to its achievement.
Am I communicating vision and moving forward with others?
Integrity

To act in alignment with personal and professional standards and values, keep agreements, and interact consistently at all times with everyone, everywhere.
Am I proud to say I am involved in this work?
Diversity

To accept and respect different genders, ages, nationalities, and experiences and to leverage this diversity to enhance results.
Am I including the ideas and skills of a variety of people to create the best result?
Passion

To focus intensely and energetically on current issues, with strong will and momentum to succeed.
Am I taking responsibility for and caring intensely about what I am doing?
Challenge

To be fully committed to undertake new projects and pioneer the future with creativity and ingenuity, no matter the degree of difficulty.
Am I actively trying new things and pursuing innovative solutions?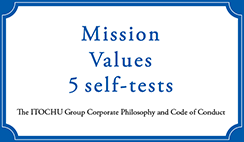 The ITOCHU group is a dynamic entity; it is continuously evolving through the actions of its employees.This booklet was created to clarify the ITOCHU group's corporate philosophy and code of conduct and to ensure that we adhere to them on a daily basis.