Food

The foodstuff department consists of Oils/Fats, Sugar/Dairy/Coffee and Feed/Grain sections.

Oils & Fats section is responsible for the origination of palm oil and lauric oils from Malaysia and Indonesia, both in bulk and consumer pack form.
The main destinations include Japan, Taiwan, Myanmar, Vietnam, Middle East and Africa. This section also trades soft oils (soybean oil, sunflower oil) as well.

Sugar/Dairy/Coffee section is primarily responsible for importing raw ingredient of skim/full cream milk powder, coco powder, sugar and unsalted butter into Singapore for food preparation business to be exported to Japan.
In addition, this section is trading green coffee bean to Asian market from worldwide origin, and is supplying instant coffee and coffee extract for beverage manufactures etc.
Also we are a shareholder of Aneka Coffee Industry, which produce instant coffee and extract, located in Surabaya, Indonesia.

Feed/Grain section is mainly responsible for grain, oilseeds and feed materials trading from all over the world to Asian market. This section is also in charge of ocean freight, future/option trade of agri-commodities.
Oil / Fats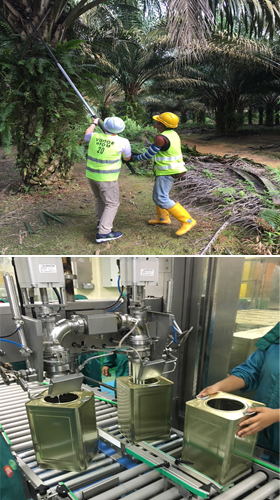 Palm Oil (RBD, High IV, Processed, Fatty Acid etc)
•Palm Kernel Oil (RBD, Processed)
•Coconut Oil (Refined, Cochin)
•Vegetable Oil(Soybean, Sunflower, Canola, Corn, Groudnuts etc,)
•Shortening and vegetable oil cream
•Hard Butter(Cocoa Butter Equivalent (CBE) and Cocoa Butter Substitute (CBS))
•Cooking Oil (Cunsumer pack)
Sugar / Dairy / Coffee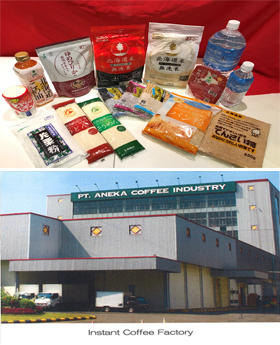 •Skim Milk Powder, Whole Milk Powder, Butter, Cheddar Cheese
•Coffee products (coffee bean, instant coffee)
•Sugar
•Cocoa Butter/Powder/Liquor
•Wheat flour
•Meatballs, Sausage, Chicken Wings
•Japanese Food Stuff
Feed/Grain
•Corn
•Soybean
•Soybean meal
•Wheat
•Wheat bran
•Barley
•Corn Gulten meal
Subsidiaries & Associates