Machinery
Outline of ITOCHU Corporation's Machinery Company

The Machinery Company is made up of two divisions – both committed to expanding its business across a wide range of fields using sustainable technologies.

- Plant Project, Marine, and Aerospace Division
Areas of focus: transportation, power generation, petrochemical, water treatment, waste management, aircraft, and shipping.

- Automobile, Construction and Industrial Machinery Division
Areas of focus: sales and business development of passenger and commercial vehicles, construction and industrial machinery, electronic systems, and healthcare equipment.

In addition to its more traditional role as an EPC (Engineering, Procurement, and Construction) player, ITOCHU has expanded into the areas of project financing and strategic investments in plant assets, mergers and acquisitions opportunities, and operational maintenance.

Activity of ITOCHU Australia's Machinery Division

ITOCHU Australia's Machinery Division is committed to promoting the many interests of ITOCHU Corporation Machinery Company's departments and worldwide affiliated companies.

As part of ITOCHU's strategic focus on infrastructure projects the company invests in the transport, water and waste industries. In its activities in the water and waste sectors in Australia, ITOCHU's subsidiary, I-Environment Investments Pacific (IEIP), manages ITOCHU's investment in the Victorian Desalination Plant. The Machinery Division also oversees the company's involvement in the Queensland New Generation Rollingstock (QNGR) project.
Water Sector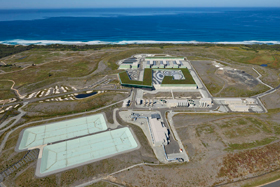 ITOCHU Group has invested in AquaSure, the entity contracted by the Victorian Government to design, build, finance, operate and maintain Australia's largest desalination plant located in Wonthaggi, Victoria, and associated infrastructure. ITOCHU has invested AUD100 million to deliver the Victorian Desalination Project and, as a major equity investor holds two seats on the AquaSure Board. The desalination plant has the capacity to produce up to 150 gigalitres of high-quality drinking water each year and is the first desalination project to be delivered through a public-private partnership (PPP) in Australia.
Transport Sector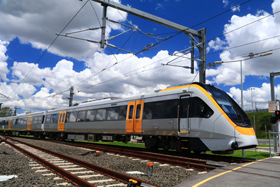 ITOCHU Group also invests in QTECTIC, the company leading the QNGR project to design, build, finance, and maintain 75 new passenger trains and its depot facility for the Queensland Government. As a substantial equity participant, ITOCHU has 25% of total equity and holds a seat on the Board of QTECTIC. The QNGR project is ITOCHU's first investment in the PPP rail sector in Australia and advances the company's long and successful record of participating in rail projects globally.